Canadian CTLS (triple license) Cultivation, Processing and Sales Producers invited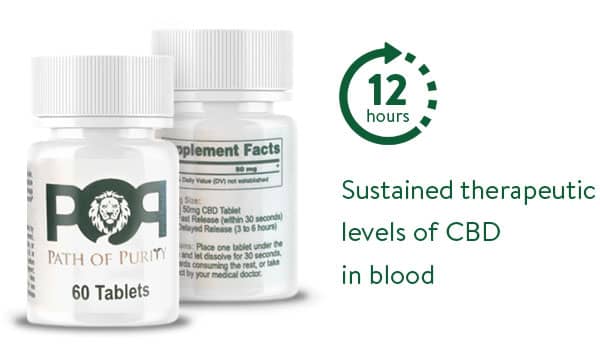 Path of Purity is a 50mg CBD tablet made from a full-spectrum phytocannabinoid rich extract - which blends all of the 110+ cannabinoids together for a synergistic entourage effect.
PoP is engineered with a unique 2 stage-release delivery system matched to the way the body uses CBD - the first 25 mg released in the first 30 minutes and the second 25 mg released 3 to 6 hours later when the body signals its need for more.
This 2 stage delivery has been shown in third party lab testing to make Path of Purity up to 30 times more bioavailable than many CBD oils.
An independent brain mapping study of 10 volunteers across 10 brain networks showed each participant improved across ALL 10 networks after 30 minutes, with (in most cases) the improvements increasing for 3 to 6 hours then trailing off, though some individuals even improved after 10 hours. (The networks tested are: Information Flow, Coherence, Lagged Coherence, Anxiety, Mood, Pain, Attention Network, Executive Function, Default Mode and Limbic System).
Path of Purity is currently available in the US and we are expanding internationally.
In order to expedite making Path of Purity available to Canadians we are requesting current holders of CTLS licenses to Cultivate, Process and Sell to contact me at [email protected] to discuss possible collaboration efforts.
Thank you
Kindest regards
James G Comerford, CEO