Ever heard of your Glycocalyx? It's time you did!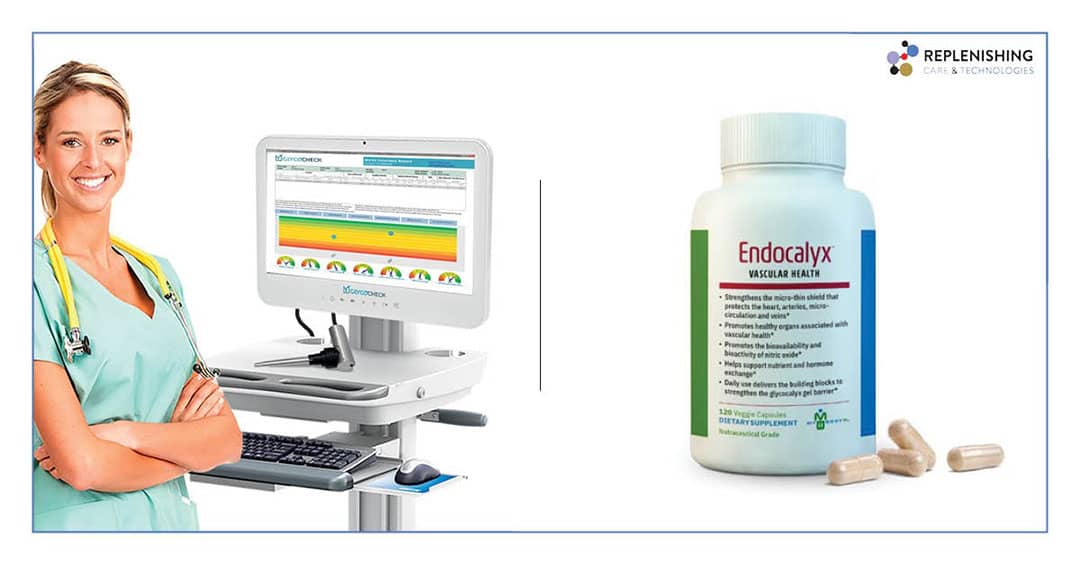 The Endothelial Glycocalyx is a micro-thin gel lining that provides a hair-like protective coating to the inside walls of arteries, veins and capillaries. Healthy Glycocalyx contributes to proper and continuous flow of blood, oxygen, nutrients and hormones to cells and organs - as well as the elimination of waste. Compromised or leaking Gycocalyx is directly linked to: Heart Disease, Diabetes, Hypertension, Stroke, Kidney Disease, Dementia, Septic Shock, Inflammatory Disorders, Infectious diseases, Cancer Metastasis and Pre-Eclampsia.
At last there is a way to improve a person's TRUE health by restoring the Glycocalyx – and a patented and proven way to measure progress:
GLYCOCHECK provides a real-time health score based on the performance of the Glycocalyx throughout the cardiovascular system – including (FOR THE FIRST TIME EVER) the micro-sized Capillaries which make up 99% of the blood vessels in the body.
ENDOCALYX is a revolutionary and patented supplement specifically created and proven to repair, restore and replenish the structure and function of the Glycolcalyx.
PRACTITIONERS interested in learning how you can use Glycocheck and Endocalyx to improve patient care and/or NON-PRACTITIONERS wishing to augment your own care are asked to see ENDOCALYX AND GLYCOCHECK
Kindest regards
James